It's Christmas, so it must be time for another Moon Wiring Club album
The surprise this year - it's two albums. A vinyl LP, a compact disc.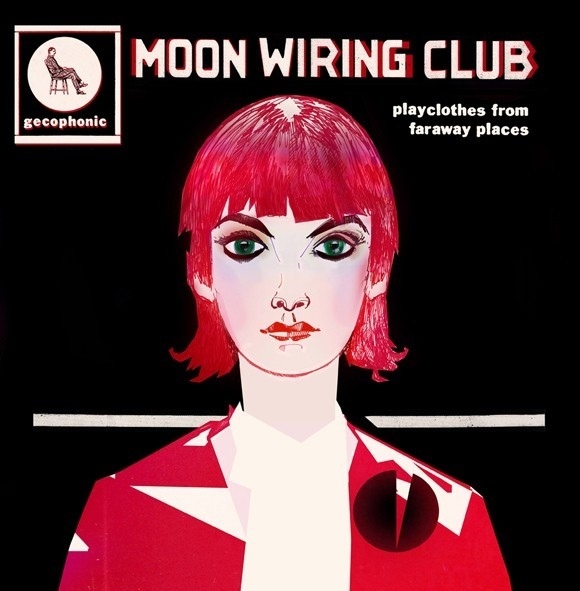 Slightly different cover look on the CD - the Moon Wiring Girls, you could call them (a la Roxy Girls), in the past have been vaguely 1920s or earlier - but this one is sort of a Suprematist Female Ziggy, maybe... or an "
Art Deco Punk
" (Ian Hodgson's own description)
Slightly different sound - the beat-oriented tunes are a bit electro-y - "'Harold Faltermeyer scores an 80s fashion-horror film" - says Ian, with a guiding concept being "squashing 80s 12" mixes back to a 7" structure but keeping the oddness.... endless vocal chopping and sloppy breakdowns"
While the LP Why Does My House Make Creaking Noises? is focused on "120 bpm Jacobean theatre electronic muzak", the CD Playclothes From Faraway Places has a large swathe in the middle of beat-free tracks - "Mungo & Shoddy", "Sartorial Reanimation", "Chiffon and Singed Hair", "Into A Secret Land", "Snow Scenes In July", "Wake Critique" - hinterlands of atmospheric gloop - straying at times towards Aphex SAWII or Zoviet France zones.... the wraith-writhing voicescape of "Haywire Assistants" being particularly compelling,... the mistily serene"Timeless Tea Gowns" verging on New Age, in the best possible way.... terrific stuff all
Purchasable
here
and
here
(if outside UK/Europe)
This pair are Moon Wiring Club's eleventh and twelfth albums. Moon Wiring Club is one of the most consistent artists around - in both senses - the sound fluctuates, has shifts of emphasis, but it's completely distinctive, no one else sounds like this - but also consistency in terms of hit-rate - there's been albums I'm more attached to than others - but overall the quality level has been remarkably... level.
The only other entity in this parish with a similar combo of instantly recognisable signature and standard-maintenance against the odds given the prolific-ness is Ekoplekz...
"

Archive and recent selections....90 minute - hand dubbed cassette -

30 copies only

"
The Glitch stuff is excellent eerie-ambient, with tracks going back to 1996.... the Gloria Gloucestershire pieces "monomixtur1" and "monomixtur2" - based on a live work-out with a Korg synth, each constituent part done in one take "with no overdubs or edits and presented in roughly chronological order" - are spacey, aggressive, superb